If you've ever used the Hybrid theme and tried to do much customization of the code you may have been somewhat frustrated if you don't understand how to use hooks. That's ok, they're not for everyone. Hybrid is still an excellent theme framework though, but you just need to know how to utilize it. One of those ways is adding additional features to it that make it easier for the end user, while keeping it simple for developers and bloat-free.
A common question about modifying Hybrid is how to change the byline. It's the part below the post or page title that says states the author, date, etc. Until now, you've needed to be PHP savvy (or at least know how to edit a PHP file).
What can it do?
This plugin will add new options to the "Hybrid Settings" page that's already under your "Appearance" tab in the WordPress backend (assuming you're using Hybrid!).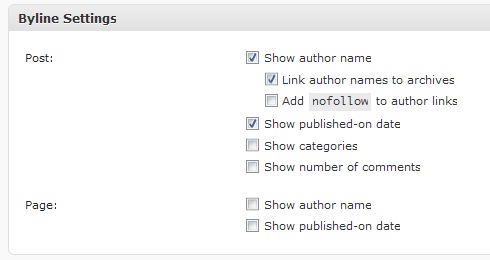 This is what you'll see after you install and activate the plugin. By default, the checked boxes reflect the current byline settings that Hybrid uses. It gives you the ability to add categories or the number of comments to your post byline. You'll also notice that you can add the author and date to pages as well. One extra addition is that you can choose to add nofollow to the post author link (a possible SEO benefit).
Possible Future Features
The plugin is brand new and can certainly use some other features.
Change the date format
Change the text before the author and between the author and date (i.e. "by" and "on")
Select whether the author name links to the author's archive or website URL
Choose where the byline appears

Currently the byline changes will be reflected in all areas the loop is run (i.e. posts page, archives, category pages, etc.)
It's in beta!
I haven't fully tested this yet, so I don't advise using it on a live site just yet, but I would appreciate any feedback.
Please use the forums to alert me of any bugs or ideas about how to improve the plugin.