This week I launched a new client site: Simple Elegance. Simple Elegance is a wedding decoration company in Denton, TX that serves the whole DFW area. I'm getting married (in less than a month!) and so my bride met with Simple Elegance and found out that they needed a website. Needless to say, work began a few weeks later.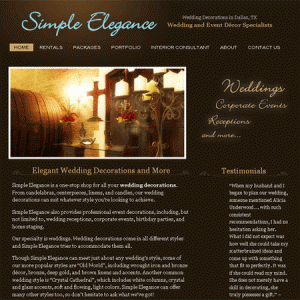 Design & Home Page
In designing the site I wanted to achieve two things: simplicity and elegance. 😉
The site needed to be conducive to an audience I'm only vaguely familiar with, yet constantly surrounded by: young women in dire need for wedding decorations. I ended up giving the site a very rustic, yet smooth feel. The dark colors are a stark contrast to the traditional white wedding sites (though I will be implementing a style switcher to go between the dark scheme and a lighter one). I feel as though the browns make the site feel a little smaller, but in a good way. The perception is that the site is well maintained, updated, local, non-corporate, and easily accessible to customers.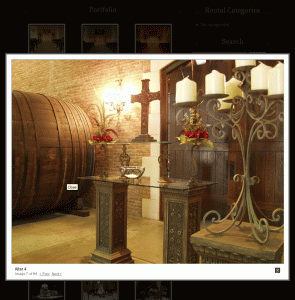 Photos
Pictures are huge in a business that is selling services based solely upon how good they look. We used in-window popups to show off the larger images, and allow visitors to browse through the many pictures. We're taking advantage of the WordPress built-in gallery feature to make photo browsing and management easy.
Search Engine Optimization
As with all of the sites I build, I take great care into how I build a site so that it out performs competitors in search engines. This section is for those already familiar with SEO.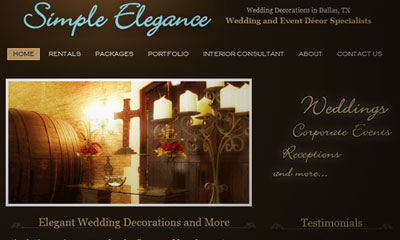 Headers
On the home page I used the text "Wedding Decorations in Dallas, TX" as the H1 tag. While the business is located in Denton, TX, their service is as wide as the DFW area and Dallas is a more trafficked keyword than Denton is, so it made sense to draw from the bigger pool, rather than limit ourselves to Denton.
The H2 tag is "Wedding and Event Décor Specialists" so that we can emphasize even more specifically what the site is about, including a broader range of services.
Tags
For our purpose, what traditionally are called "tags" we'll call "styles". I wanted brides to be able to find exactly what they're looking for. Not only did we categorize rentals into a categories like candles, candelabras, and cake toppers, but implemented a tagging feature that will tag about 700 adjectives automatically. If you look at the screen shot below you can see a demonstration of which words could be tagged. This is pretty useful for users looking for a decorations of a very specific style and for search engines because it allows optimization of hundreds of long tail searches.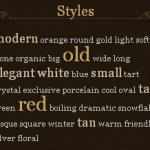 Conclusion
The live site doesn't reflect everything mentioned in this post as some of the content has yet to be entered. However, I think you'll find the site to be beautifully simple and very well optimized for search engines.
Visit Simple Elegance.