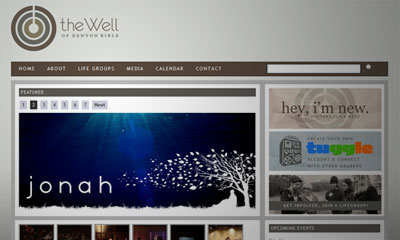 The Well is the evening service at DBC. The intention in building this site was to provide a platform for a media rich website. The Well records and podcasts sermons weekly and needed to organize these, make them even more accessible, and align them with other media resources like video and photos.
Some things to note about the features included in this website are the "featured post scroll" on the home page, a calendar of events managed by Google Calendar but displayed in a custom design, and the galleries for all the types of media.
Website: No longer online
Platform: WordPress
The Well is the evening service of Denton Bible Church. Established in 2008, this service was birthed to further the mission of our church in "equipping the saints for the work of the ministry" (Eph. 4), namely among a new generation of families, singles, and collegians in our community.